Taking backup of WordPress site and restoring it takes a lot of time and efforts if you do it manually by taking database backup, file-folder backup, WordPress core files there is a chance of mistakes and it required some server-side knowledge too and if you an SSH user then you should be good at commands also. Today I am going to share with you a best backup and restore plugin for wordpress where you can take backup and restore it from the WordPress dashboard you do not need to log in to your hosting panel (or) SSH terminal, all you can do from the dashboard only you required WordPress admin access of your site.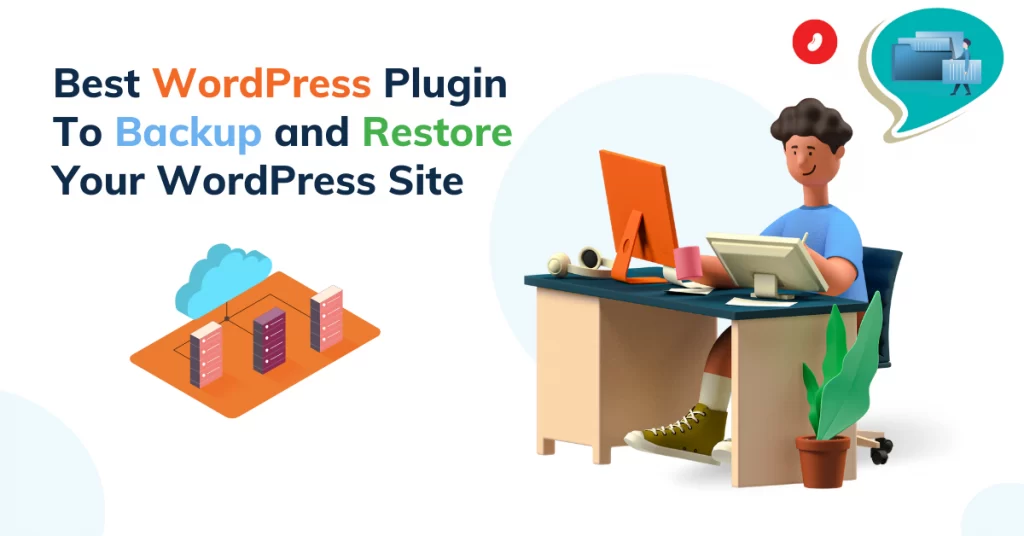 Best Backup And Restore Plugin For WordPress
WPvivid Backup Plugin is the free plugin I am going to introduce to you that offers backup, restores, and migration of your WordPress website this plugin comes in both free version and premium versioṇ
  it supports the popular website builders like
 1. Divi Builder
 2. Elementor Page Builder 
 3. WordPress Page Builder 
 4. Page Builder by Site Origin and more
  Features it offers to free version
  Easy Backups
   It allows taking backup of your website with different ways like
Both File Folder and Database Backup 

Only Database Backup

Only File Folder Backup
Scheduled Backups 
          Making backups manually every day or every week or monthly takes your time, don't worry this feature reduces your time, it automatically takes backup on your scheduled time it may be daily, weekly, monthly where you can choose the backup items (DB and Files) and destination (Remote, Local, or Cloud Storage)
    Remote Storage 
         Storing the backups on the production server is not recommended in some situations it may lead to complete data loss if something went wrong. So remote storage makes the data safe even your production server is also completely crashed or malfunction but you still have the data in your cloud storage or remote storage server
     It supports FTP, SFTP, Dropbox, Google Drive, OneDrive, Amazon S3, and more remote storage services  
  One-Click Restore
          With WPvivid restoring the backups makes it easier than ever it supports a one-click restore process from your local, remote, cloud storage and you can choose the backup files which you want to restore according to date and time.
 Cloud Storage Support
             It allows popular cloud storage services like Dropbox, Google Drive, Microsoft OneDrive, Digital Ocean Spaces, SFTP, FTP, Amazon S3, and more with easy backups and scheduled backups you can restore your website directly from cloud to production server without logging into the server 
Things you should take care of before installing the plugin
 Minimum Requirements  
 • Character Encoding UTF-8 
 • PHP version 5.3 or above (Still not tested with PHP 8)
 • MySQL version 4.1 or above
 • WordPress 4.5 or above
Compatibility Test
 Whenever you are installing any plugin check the compatibility of the following
WordPress version

PHP version

MySQL version

Plugin version
Note: If your website is WooCommerce based eCommerce site I would suggest testing the plugin by creating the same production environment and later you can install it on production directly.
Installation of WPvivid Plugin
  The process is too easy to install this plugin once you completed the compatibility test and meet the minimum requirements WPvivid Plugin free version is available on the WordPress plugin repository you can check by click here. 
Login to WordPress Dashboard

On the sidebar menu, you can find the

 Plugins

 option.

On plugins, you can find

Add New

 click on it.

On the search box enter the keyword 

WPvivid Backup and Restore Plugin.

On the result, you can see 

Backup & Migration – WPvivid Backup and Migration Plugin 

by WPvivid Team.

Click on the install button and activate the plugin.

 Now you ready to use the plugin on the sidebar menu you can see the option called WPvivid Backup from here you can access the plugin page.

 The Premium version WPvivid Backup Pro provides the ability to back up your WordPress multisite network as well to purchase the WPvivid Backup Pro check the official website of WPvivid  https://wpvivid.com/pricing
You can buy the pro version from our referral program : Click Here
  I hope our blog is helpful for you, if you have any queries leave a comment we respond to you  ASAP!