Baahubali the game is going to be close (shut down)
The Indian game which attracted the most Indian users called "Baahubali The Game" from Moonfrog is going to be shut down, official news from Moonfrog.
A pop-up alert is coming in the game as follows
Dear valued player,
following an incredible 3 years since its initial launch back in 2017, we are officially announcing the closure of Baahubali: The Game. Over the years our players have enjoyed this game just much as we have made it. For that, we say thank you.
In advance of sunsetting the game, we would like to point out that in-app purchases will be available up until January 20th, 2021, at which point the game's payment system will be completely turned off. Thereafter the game will not be accepting any in-app payments and any refunds will not be processed during this time. The game will, however, continue to be playable until February 20th, 2021, at which point it will be shut down completely.
Any remaining credits that you have during this period should be used before February 20th, 2021,
Thanks for Playing!
Moonfrong Team
Baahubali game is closed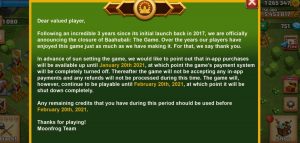 Then is the time to say bye to Baahubali the game 🙁
Baahubali The Game closed it is removed from Moonfrog Offical website
https://moonfroglabs.com/title/baahaubali/